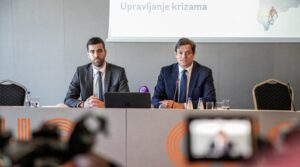 At the invitation of the World Bank representatives, UBCG representatives attended the presentation of the World Bank's Regular Economic Report on Economic Developments in the Western Balkans (Albania, Bosnia and Herzegovina, Montenegro, Kosovo, Northern Macedonia and Serbia).
A semi-annual report on recent economic developments and the outlook in the Western Balkans (Albania, Bosnia and Herzegovina, Kosovo, Montenegro, North Macedonia, and Serbia). The edition looks at the economic and social effects of multiple shocks to the region, including the impact of the war in Ukraine and the energy crisis in Europe.
The economies of the Western Balkans saw a strong growth rebound in 2021 with a broad-based bounce back in economic activity. In 2021, GDP growth in the Western Balkans reached 7.4 percent after a contraction of 3.2 percent in 2020. GDP is now expected to surpass pre-pandemic levels by 2022.
Montenegro's economic recovery in 2021 was stronger than expected, supported by a rebound intourism; in parallel, inflation surged to 6.7 percent in February 2022, a 10-year high.
The labor market responded to economic recovery and returned to pre-pandemic trends, withunemployment dropping to close to 15 percent.
The fiscal deficit fell from 11 percent of GDP in 2020 to 2 percent in 2021.
Montenegro adopted a landmark reform program, Europe Now, which carries many opportunitiesbut also significant fiscal risks.
The outbreak of war in Ukraine has worsened the otherwise positive outlook for Montenegro,with risks tilted to the downside.