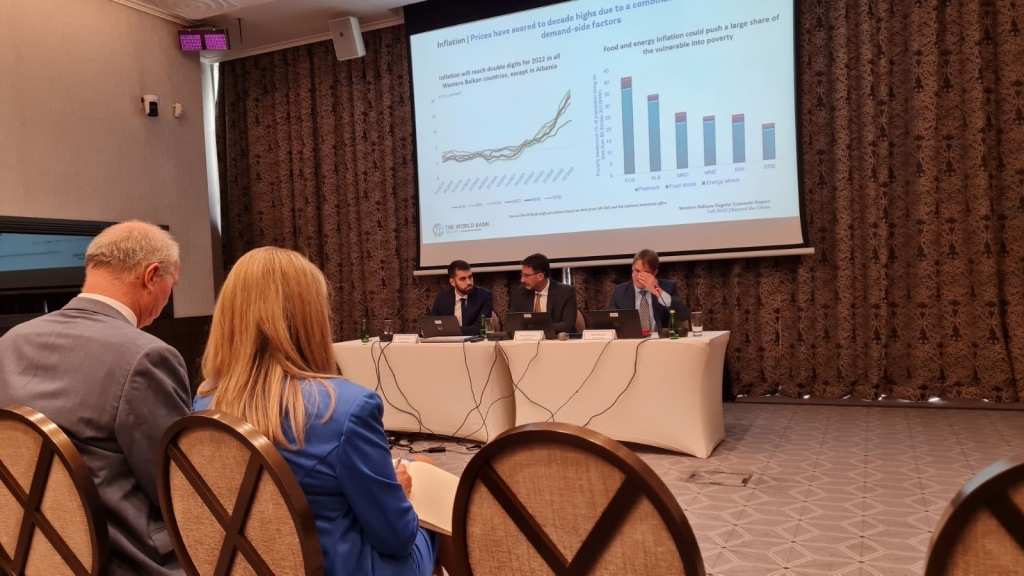 24.10.2022. At the invitation of the WB representative in Montenegro, the General Secretary of the UBCG attended the presentation of the regular economic report for the countries of the Western Balkans. The report, the 22nd in a row, is entitled "After the crisis", and it refers to recent economic developments in Albania, Bosnia and Herzegovina (BiH), Montenegro, Kosovo, North Macedonia and Serbia. The report was presented in Podgorica by senior economist Mark Tobias Schiffbauer and World Bank economist in Montenegro, Milan Lakićević, who will briefly explain the issues highlighted in the report that are of particular importance for Montenegro.
This year, the Montenegrin economy will grow by 6.9 percent thanks to private consumption and the recovery of tourism, while unfavorable global economic prospects and high uncertainty will affect further recovery, so it is expected that the growth of the Montenegrin economy next year will decrease to 3.4 percent and 3.1 percent in 2024, as private consumption growth slows.
Galloping inflation in 2022 is indicated, with the highest increase in food prices 19.4% and fuel 30.5%. A stable, well-capitalized and liquid financial sector is indicated. The fiscal deficit under the pressure of lower incomes and increased social benefits is estimated at 4.9% of GDP, while the estimate for 2023 is at the level of 4% and 2.7% in 2024.
Economist of the WB in Montenegro, Milan Lakićević, stated that the public debt remained at a fairly high level, and that it is the largest in the region. He added that it fell as a percentage of GDP to 73 percent, but that this was the result of GDP growth and inflation. He said that the SB expects higher revenues than those presented in the budget and that there will be a delay in spending due to a two-month problem with the work of the public administration, that is, the public procurement system, due to a cyber-attack. He pointed out that the income from social security contributions and personal income tax decreased due to the implementation of the new tax policy (Europe Now project), which abolished the health contribution, which was planned to be financed by progressive income taxation and higher excise taxes. The SB assessed that the increase in minimum pensions was done without complementary reform measures,
The complexity and fragility of the political environment in Montenegro worsens the already high uncertainties, slows down the reform process and diverts the focus from the immediate economic challenges. Prudent fiscal policy based on continuous reduction of public debt and growth support policy are of key importance in such an environment, according to the World Bank report.